13 March 2020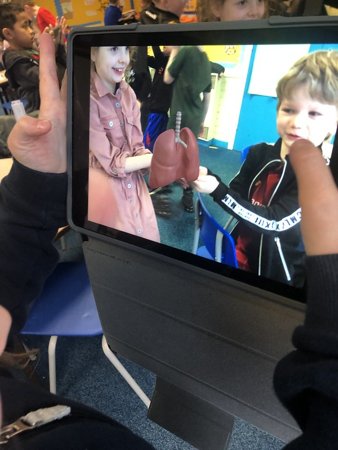 It may be Friday 13th but it is still Friday and a reason to dance! Good afternoon!
Wagtails have all been super comfortable in their sportswear today for Sport Relief. This year the theme is 'Its Game On'. So we all got our kit on, we got involved with a circuit training session and donated. Sport Relief has had the whole school moving today and we have had lots of fun together. By joining in, we have raised money to change lives across the UK and around the world.
Each morning this week, the children have taken part in a variety of English and Maths assessments. These are used to assess each child's individual learning at this time in the year. Everyone worked incredibly hard, trying their best - what more could we ask for? Even though we have been completing assessments and children have been showing off their super learning, we have managed to cram in our ordinary lessons too.
In English, we have spent time editing and publishing our own versions of the poem 'The Owl and the Pussycat'. The children shared their work with each other and peer marked, giving supportive feedback. This has allowed the children to learn how to effectively proofread for punctuation, tense and spelling errors.
In Maths, we played a variety of times table (2,5,10) games to build up our fluency and recall of these facts. We will have a final week on consolidating multiplication before moving onto division. It would be wonderful if you at home come keep multiplication bubbling. Can you quiz your child during a car journey or walk? How many facts can your child answer correctly during bath time or whilst waiting for tea? Can your child answer a question for each step they take upstairs to bed? Your help at home will make a great difference.
We started our new RE topic this week, which is all about change. We started with exploring how we have changed and grown since being a baby. We learned a catchy song too. Here it is:
Ask your child if they can remember the tune.
Next week, we will look at how lent is a time to change in preparation for the celebration of Easter.
In Art, we continued to explore artists who use symmetry in their artwork. We had a go at drawing and decorating symmetrical butterflies.
In Geography, we started our new topic 'The United Kingdom'. We used an atlas to locate ourselves on the map. We will be looking at which four counties make up the UK and which seas surround it next week.
In Science, we are currently looking at the four seasons in a year. This week we linked this to Art creating a beautiful piece of artwork based on how trees look and what the weather is like in each season. Our artwork will be displayed in school for everyone to view and will be brought home in a few weeks to showcase to yourselves.
Thursday was an exceptionally busy day as we had two special visitors in school. We had a thought-provoking assembly by an ex-pupil, Amy who spoke to us about mental health. We also had the PCSO in school and we were able to ask questions and learn about their role, reasons why they chose their job, what a typical day is like and their training. All of Wagtails were so intrigued during both sessions but continued to behave superbly and impress the visitors.
We have linked our Computing learning with Sport Relief this week. To keep active, we began our afternoon with an exercise class from Discovery Education #activekidsdobetterUK. We developed our knowledge and understanding of the human body by locating our organs on outlines of our bodies and we were Sports Scientists at work when making 3D models of human lungs. To explore the heart, lungs and stomach, we used Augmented Reality to take a closer look at how our amazing bodies work. Photos can be seen on Twitter and Flickr - https://flic.kr/s/aHsmGL1ozn
Thank you to all the children who brought in cakes this week. We have enjoyed selling these on the playground and sampling each other's delicious creations. All money raised goes towards the Good Shepherd Collection and other charities. We appreciate your contributions.
Once again, it has been a long blog but we always have so much to tell you about our fun-filled weeks in Year 2. Let's not forget to give a special mention to the lovely Mollie for being chosen as Wagtails' Ozzie's Champion. Mollie has a brilliant can-do attitude. She will not be stopped by any obstacle that comes her way. She tackles obstacles as problems to be solved, not as roadblocks that make her turn back. She is able to seek out answers to her problems and find them. Her hard work and commitment to learning will never fail to amaze us. Well done, Mollie! You are great role model to others.
We hope you have enjoyed reading our blog, finding out about our wonderful learning. Have an enjoyable weekend everyone.
Love Miss Silver and Mrs Costello
Posted by Martyn Ode on 13 March 2020
Category: Wagtails' Class Blog 2019/20