7 February 2020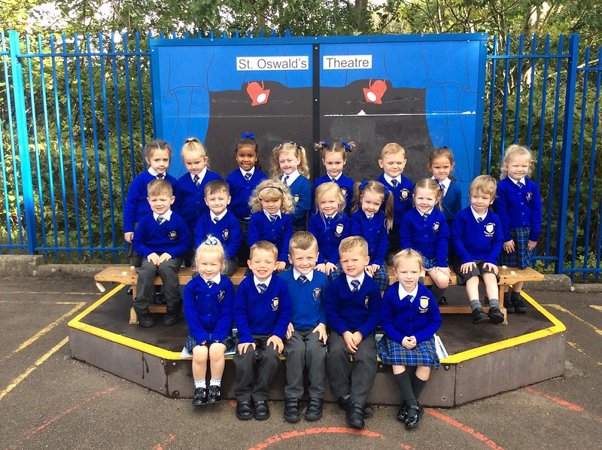 Dear Parents/Carers of children in Owlets class,
As this new week gets underway, I would like to start by introducing myself. My name is Miss Styles and I will be a student teacher in your child's reception class. This opportunity will be the last step I take before receiving my degree in Early Years Education with QTS from Edge Hill University.
I am very excited to be here at St Oswald's school. I attended this school myself, I have volunteered here and I carried out my previous placement here too. I will be in the classroom working with Mrs Gill and the other members of staff in reception until the middle of May, ready to graduate in July. As I go further along in my placement, my responsibility in the class will increase. By the end of the 12 weeks, I will be teaching 80% of the timetable.
I am looking forward to getting to know you and your child in the upcoming weeks. We will have many wonderful experiences and opportunities to learn and grow in the days ahead.
I look forward to meeting you!
Sincerely,
Miss Styles
EARLY YEARS BLOG
Another busy week this week, where Owlets and Eaglets have continued to work hard and learn new skills.
WEDNESDAY WORD – GOODNESS
Our Wednesday word champions for this week are Bliss and Lauren who have shown goodness in all that they do; they are kind and caring and always want to lend a helping hand. Well done to the both of you.
I FOLLOW "THE OZZIES WAY" CHAMPIONS
Well done to Rose and Bella this week, who have been thoughtful towards others and have produced some good pieces of work in our topic session. Well done to both of you.
WHAT HAVE WE BEEN DOING THIS WEEK? –
During Come and See we have started our new topic Gathering, The children shared times when they have gathered with others and how it made them feel.
During Literacy, we recalled the story of the Rainbow fish and made up a new adventure for him. The children enjoyed thinking about who he could meet, what he might find and what may happen to him. We put these ideas onto a story map to tell our new stories. Within our heads down activity, we wrote a list of all the creatures from the story. In phonics we have learned the sounds ch and sh, reading and writing words with these sounds in them. We have recapped the the key words we, me, be, she, he and was and introduced the word my.
Within Maths, we have recapped the names of the 3D shapes and have taught the children about faces, vertices and edges when talking about these shapes. The children enjoyed using the playdough to make 3D shapes for our shape museums.
During the afternoon, we continued to look at the ocean habitat and found out lots of interesting facts about some of the animals. They found out about how fish have nostrils, not to breathe with but for smelling, the more nostrils they have the better they are at smelling, sharks have tiny little teeth all over their body and that is why their skin feels like sandpaper. The moray eel opens and closes it mouth all the time, not because it wants to eat you but to breathe, the parrotfish makes a protective bubble around itself at night to protect itself from predators. We talked about what being a predator means. The children have learned how to make a moving picture using a slider mechanism and created their own moving picture.
In gymnastics with Anne Garner, the children put their egg rolls and a log rolls into a sequence, they performed a sequence with a balance, roll and a balance.
WEEKEND CHALLENGE –
New spellings sent home this week, keep practising them. If the children are confident at writing these words, ask them to put the words into a sentence and write a sentence on the back of their sheet.
DATES FOR YOUR DIARY –  
Half term – Friday 14th February 3.30pm
World book day – Thursday 5th March
Learning Journey files go home – Friday 13th March
Parent Interviews – Monday 16th March
Mother's Day Assembly – Friday 20th March
End of term – Thursday 2nd April 3.30pm  
Enjoy the weekend. We look forward to hearing about your adventures.
Mrs Gill, Mrs Ridings, Miss Davies, Mrs Hanway and Miss Woolley.
Posted by Martyn Ode on 7 February 2020