31 January 2020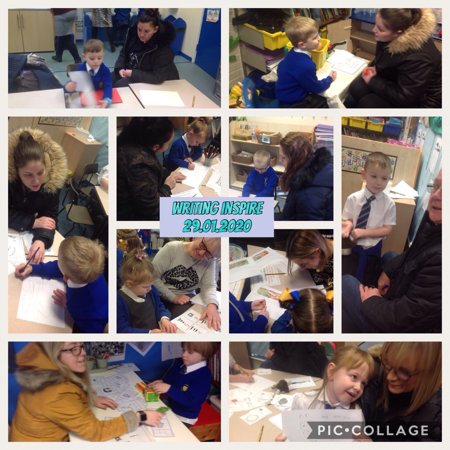 Kung Hei Fat Choy –
This week in Owlets and Eaglets we have been finding out all about the Chinese New Year. The children have enjoyed finding out about how it is celebrated.
WEDNESDAY WORD – HOPE
Our Wednesday word champions for this week are Anna and Jared for making our school community a happy place to be. Well done to the both of you.
I FOLLOW "THE OZZIES WAY" CHAMPIONS
Well done to Annabelle and Callum this week, who are always kind and caring towards others. Well done to both of you.
WHAT HAVE WE BEEN DOING THIS WEEK? –
During Come and See the children have shared all that they know about celebrating and the story of taking Jesus to the temple. During Literacy, we listened to the story of the Chinese zodiac and found out that the rat won the race because he cheated. Within our heads down activity we wrote a caption about the story. In phonics we have learned the sounds y,z and qu, reading and writing words with these sounds in them. We have recapped the the key words we, me, be, she and he and introduced the word was. In Maths, we have completed a pre-learning task for 3D shape and have looked at the names of the shapes – cube, cuboid, cone, cylinder, sphere and pyramid. During the afternoon, we have found out about how Chinese New Year is celebrated around the world. The children have learned a lot this week. They have learned that red and gold are lucky colours and bring good fortune, that the Chinese sweep all of their house to get rid of the old year, that the children receive red and gold money packets, they eat dumplings and noodles as they represent wealth and long life, that they set off fire works and fire crackers to scare off bad things and that they release lanterns on the last night to light the way for the new year. The children made their own dancing dragons, ensuring that both sides of the dragon face was symmetrical and used these dragons when doing their own dragon dances. In gymnastics with Anne Garner the children continued to practice their egg roll and a log roll.
WEEKEND CHALLENGE –
This week we are sending home the children with their spellings and a handwriting sheet. The children did very well with their spellings this week. Keep it up Eaglets and Owlets.
OWN CLOTHES DAY –
Our Faith in Action group are holding an own clothes day on Monday 3rd February. They would like the children who come in their own clothes to bring a £1 donation to help raise money for SOCHDOC who are supporting a school in Malawi, Kenya.
INSPIRE SESSION –
Thank you to all the parents and grandparents who attended our final inspire session we hope you found it beneficial. The children were a credit to you and showed us just how far they have come on in their writing and confidence in writing.
Enjoy the weekend. We look forward to hearing about your adventures.
Mrs Gill, Mrs Ridings, Miss Davies, Mrs Hanway and Miss Woolley.
Posted by Martyn Ode on 31 January 2020