20 January 2020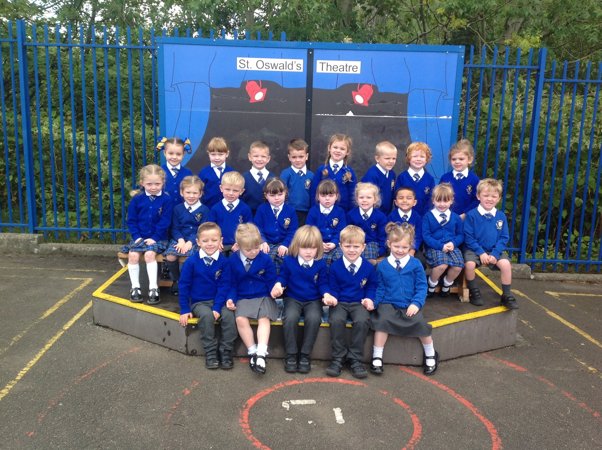 Mrs Gill would like to say a big thank you to all the children and staff for the support they have given me this week.
WEDNESDAY WORD – WITNESS
Our Wednesday word champions for this week are Emilia Hart and Lauren Green for always doing the right thing. Well done to the both of you.
I FOLLOW "THE OZZIES WAY" CHAMPIONS
Well done to Annabelle Fitzmaurice-Stephens and Charlotte Anderson this week, who have both shown good focus during our activities and have worked well. Well done to both of you.
WHAT HAVE WE BEEN DOING THIS WEEK – During Come and See we have been learning about the different celebrations that we have in church and finding out about the different features and objects within church. Vocabulary we have used with the children includes altar, altar servers, priest, mass, hymn books. The children labelled a picture of the parish family at church during a Mass celebration using these words. During Literacy, we have introduced the children to our story for the term – The Rainbow fish. They have talked about the story and sequenced the pictures from the story. We looked at the j and v sounds and the words he, we, me, be, she and have been reading and writing cvc words with j and v in them. Within our heads down activity, the children have been writing a caption for a picture from the Rainbow fish. In Maths, we have done some work on 2D shapes, name and describing them and sorting them into correct sets, thinking about straight and curved sides and how many vertices the shapes have. Within our topic sessions, the children enjoyed finding out about the ocean and have generated questions for us to look at and find the answers to over the next few weeks. With the information we find out we will be making a book to put in our library area. The children also used the watercolours to create their own picture of the rainbow fish.
WEEKEND CHALLENGE – Over the weekend we would like you to help your child go on a shape hunt to look for 2D shapes. How many different shapes can you spot when you are out and about? What are shapes used for? What do the shapes look like? Where possible take photographs or draw pictures of these. Please send any recorded homework into school so that we can add them to our maths wall. Thank you for your support with this Homework.
INSPIRE SESSION – On Wednesday 29th January we will be holding our Writing inspire session.
Morning session – 9am – 11am is for the Eaglet parents/carers.
Afternoon session – 1.30pm – 3.30pm is for the Owlet parents/carers.
The session will run the same as previous sessions and we hope that parents will be able to attend or send another representative to work with their child.
RECYCLING – Over the next couple of weeks, we will be building models of churches. We are asking if you could please send in any empty cereal boxes, tubes, small boxes etc for us to use when building our models.
DATES FOR YOUR DIARY – Writing Inspire – Wednesday 29th January Half term – Friday 14th February 3.30pm
Enjoy the weekend.
Mrs Gill, Mrs Ridings, Miss Davies, Mrs Hanway and Miss Woolley.
Posted by Martyn Ode on 20 January 2020