6 December 2019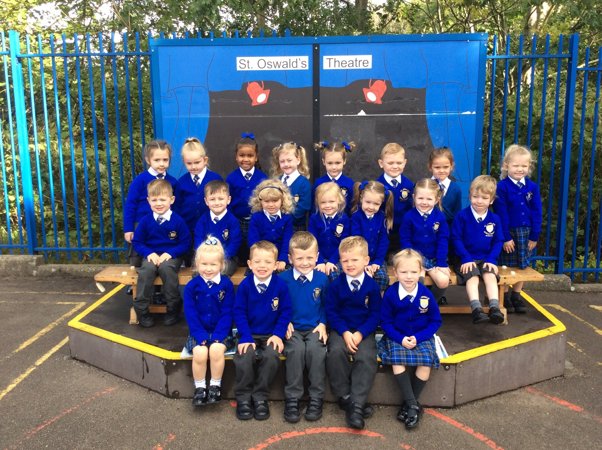 This week we have had a special visitor who has come to visit us for the whole of December. His name is Sid the Elf and he has been up to lots of funny business in our classrooms. We can't wait to see what he gets up to next week!
WEDNESDAY WORD – PREPARATION
Our Wednesday word champions for this week are Amaya Parr and Harvey Carey-Jones for showing how they can be more like Jesus in the way that they conduct themselves in school during the time of Advent. Well done to the both of you.
I FOLLOW "THE OZZIES WAY" CHAMPIONS
Well done to Harry Ballard and Jared Butcher this week, who have been working hard and always trying their best with their work even when they find things challenging. Well done to both of you.
WHAT HAVE WE BEEN UP TO THIS WEEK – During our Come and See (R.E) sessions we have been listening to the Christmas story and talking about the different events that happened at this special time in the story.
Within our literacy sessions, the children have been learning u and r. They have used these sounds when reading and writing simple words. Sid the elf has joined us in our classroom, and asked us to write our Christmas list for Santa. During our guided session, children wrote their list , sounding out the words as they wrote them.
In maths, we have focussed on number 10. We have looked at how to write it and looked at different ways to make ten. We have focussed on ordering numbers to 10 and have developed quick recall of one more and one less to ten.
During the afternoon, the children have continued to practise the Christmas performance and on Friday morning, the children had their dress rehearsal in preparation for Monday's performance. We hope that you will be as proud of them as we are. They have learned their words really well and are trying hard to say them in a loud voice. Please keep practising their words over the weekend, encouraging them to use loud voices. The children have also been helping to prepare our items for our Christmas fair stall, we hope that you will be able to come and give your support on the day.
SUPPER WITH SANTA – Thank you to Santa who came to visit the children in Early years and KS1 on Thursday after school, the children had a fantastic time playing pass the parcel, having a snowball fight, pinning the nose on the on the snowman and Rudolf and a game of musical statues.Thank you to the PTA for arranging this for the children.
WEEKEND CHALLENGE – Thank you for all the star decorations that you sent in, our Christmas tree in the hall looks wonderful. This week we will are asking the children to complete another handwriting sheet for the sounds they have been learning. Please put a tick next to the words that the children can read on their own without any support. Write s next to the words where the children needed support from yourself.
CHRISTMAS JUMPER DAY – Next Friday we will be joining in with the Christmas jumper day. The children will be able to wear a Christmas jumper instead of their school jumper. Please remember to send in your donation to support Save the Children. On this day the children will also be having a Christmas dinner if they have ordered one. There will be no other options available to them on the menu.
CHRISTMAS FAIR – On Friday 13th December we will be holding our school Christmas fair from 3.30pm. The children will be helping to make our items for our stall over the following week. We will be selling reindeer food, marshmallow snowmen and snowman candy canes. We hope that you will come and visit our stall and see what the children have been creating.
CELEBRATION OF ACHIEVEMENT – Well done to Martha who has achieved her stage 2 swimming badge.
DATES FOR YOUR DIARY - Christmas performance – Monday 9th December.
Christmas Dinner – Friday 13th December
Save the children Christmas Jumper day – Monday 13th December.
Christmas Party – Wednesday 18th December
Finish for Christmas – Friday 20th December 3.30pm
Enjoy the weekend. We look forward to finding out about what the children's Elves have been up to on Monday.
Mrs Gill, Mrs Ridings, Miss Davies, Mrs Hanway and Miss Woolley.
Posted by Martyn Ode on 6 December 2019