11 October 2019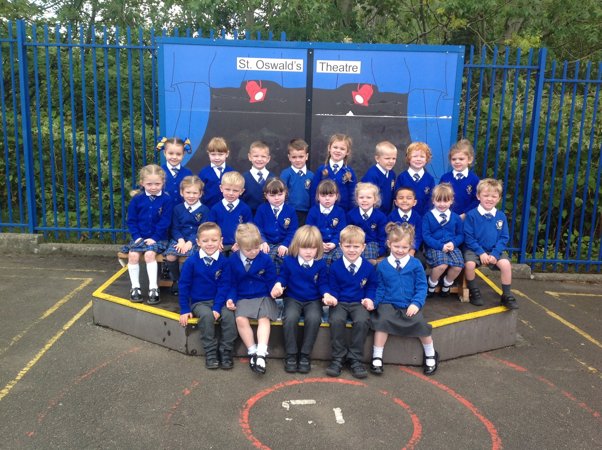 WEDNESDAY WORD – THANKFUL
Our Wednesday Worders for this week are Libby Pilling and Myles Meredith for always using their manners and saying thank you to people who help them. Well done both of you.
WHAT HAVE WE BEEN UP TO THIS WEEK – During our Come and See (R.E) activities we started our new topic 'Welcome'. The children talked about how they are made to feel welcome and showed different ways to make others feel welcome. We also had special visitors, Deacon Paul and Susan, who came to see us and talk to us about how we are welcomed into the church family. They told the children about what happens during a baptism and the children saw the items used throughout a baptism. Within our phonics session, we have continued to work on oral blending and segmenting cvc words. The children have also started on phase 2 phonics with most of the children looking at and learning s and a. Some children have looked at s, a, t and p, using these sounds when reading and writing. During maths, we have focussed on number 3. Looking at how to write it and how to make 3 in different ways. We have also looked at shapes related to 3 – triangles and cylinders, as they have three sides/vertices/faces. During the afternoon, we have continued to think about our senses and focussed on our sense of taste. We talked about our taste buds and how these help us to experience different tastes – sweet, sour, savoury and spicy. The children have been involved in an investigation to identify the different tastes during our taste test and talked about which was their favourite. In the creative area, the children have been creating a puppet of themselves using a variety of materials.
CHALLENGE FOR THE WEEKEND –Thank you for all the completed handwriting homework. This week we are asking the children to find out about their baptism. We would like the children to look at their baptismal candle and talk to you about who their Godparents are. Where possible children can bring in photographs or baptismal items from their baptism so that we can add them to our display.
NUMBER FORMATION SHEET – This week we sent home a number formation sheet with the rhymes we use to help the children with their formation. This is yours to keep at home; it does not need to be returned to school.
LEARNING JOURNEY FILES – Please return any learning files. We still have a number of files that have not been returned. Please ensure that you have filled in the parent and child response sheets and return on Monday. Thank you for your support with this.
WELL DONE – Charlie Riley was very excited to tell us that he had ridden his bike without stabilizers this week. Well done Charlie.
DATES FOR YOUR DIARY - Half term – Friday 18th October 3.30pm
Tempest photographer in – Wednesday 30th October
I FOLLOW "THE OZZIES WAY" CERTIFICATES
Well done to Louie Wright and Amelia Littler this week, who have helped to make our classroom a happy place to be with their kind words and sharing.
Enjoy the weekend- we look forward to finding out about your adventures on Monday. Remember to attend Mass on Sunday at 11am.
Mrs Gill Early Years Leader and all the Foundation Staff
Posted by Martyn Ode on 11 October 2019