4 October 2019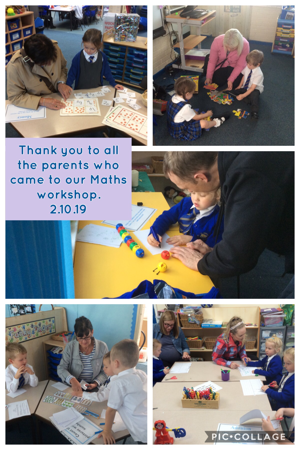 WEDNESDAY WORD – FAITH
Follow us on - Twitter - @saintoswalds
ANOTHER BUSY WEEK – During our Come and See (R.E) activities we have responded to all that we have learned during our 'Myself' topic. Well done to all the children as they have listened carefully to our readings during this topic and could recall parts of the scripture. The children were involved in our end of topic celebration and wrote their names around a heart scribed with the words" God loves each of us". Within our phonics session, we have worked on orally blending and segmenting cvc words and have been playing cross the river if you have a p-a-n, etc. The children have also segmented words to help their teacher write lists of objects. During maths, we have focussed on number 2, looking at how to write it, how to make 2 in different ways and we have been making a number 2 less by singing the rhyme 10 fat sausages. We have also looked at shapes related to 2 – semi- circle and cone, as they have two sides/faces. During the afternoon, we have continued to think about our senses and focussed on our sense of smell. The children have been involved in an investigation to see if they could identify the different smells whilst blind folded and discussed which smell was their favourite. In the outdoor area, the children have been making representations of their face using the natural materials, making sure that they included at least four of their five senses.
CHALLENGE FOR THE WEEKEND – This week we would like you to work with your child to complete the handwriting sheet. Ensure that they are using the correct pencil grip and are following the lines from left to right.
MATHS WORKSHOP – Thank you to all the parents and carers who attended our meeting, we hope that you found it beneficial. We have sent home a copy of the meeting notes with your child. If you have any questions please do not hesitate to come and speak to the class teacher. We have also included a maths support pack for you to share with your children.
A HUGE WELL DONE – Anna brought in her swimming certificates. Well done on achieving your stage 2 badge.
CONGRATULATIONS – Congratulations to Martha who has become a big sister this week.
PARENT INTERVIEWS – Our Foundation Stage interviews are on Monday 7th October 2019 where we will discuss how your child has settled in. Please ensure you have booked a time.
DATES FOR YOUR DIARY - Parent Interviews – Monday 7th October
Half term – Friday 18th October
Tempest photographer in – Wednesday 30th October
I FOLLOW "THE OZZIES WAY" CERTIFICATES
Well done to Louie Biddiss and Charlie Simm this week, who have helped to make our classroom a happy place to be.
Enjoy the weekend and remember to attend Mass on Sunday at 11am
Mrs Gill Early Years Leader and all the Foundation Staff
Posted by Jane Donlon on 4 October 2019