29 September 2019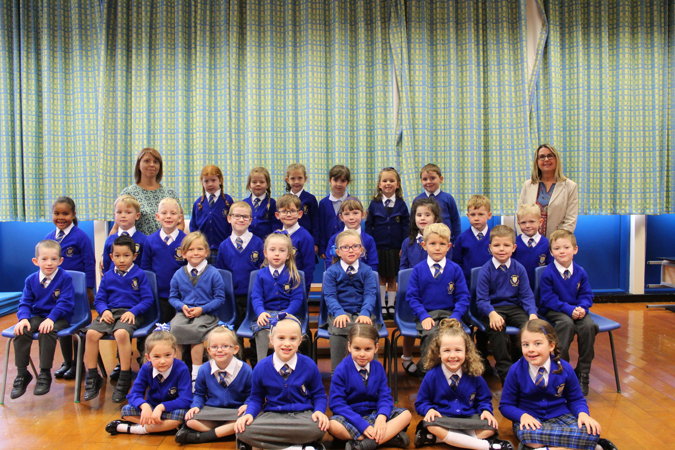 Wow, this week has flown by! We have been very busy Robins again.
In English we started our new test 'Naughty Bus' and what a naughty bus it is! The children and I came into school on Wednesday to find a terrible mess in our classroom and the Robins and I do not like a messy classroom. There were pencil pots tipped over, chairs had been pushed over, ripped up paper around the bin and books from our class library all over the floor. We did find a present wrapped in purple paper in the middle of our carpet and when we opened it we found it was a red, London bus. The Naughty Bus inspired us to write about what we had seen when we arrived at school. We are really focusing on our handwriting and making sure that our tall letters are tall and our small letters are small. The children are all trying very hard with this.
Thank you to James who brought 2 red, double decker buses to help start our new English unit.
In maths we have been focusing on number lines but there are no numbers on our number lines (we think the Naughty Bus has been up to his old tricks again and taken the numbers!) We have had to write the number back on the number lines where they should be.
In science we have been looking at our similarities and differences – we have been developing our observation skills finding who in our class has the same eye colour, hair colour, same height but also who has different eye colour, hair colour and different height. We will be writing about our observations in our next science lesson.
Our class recognition board focus this week was to show our 'I can' attitude and every Robin made it onto the recognition board because of their positive attitude each and every day in all of our learning opportunities.
Please keep an eye on our classroom window to see what our next focus will be.
Our Wednesday Worder this week was Isobella. Well done Isobella we are very proud of you!
The word of the week was 'sharing' and Isobella shares brilliantly with each and every member of our class.
There was no Ozzie's Champion of the Week because of our French breakfast. Watch this space for 2 Ozzie's Champion of the week next Friday.
We had a wonderful French breakfast on Friday, all of the children tried and enjoyed the croissants and pain au chocolat. We have Mrs Wibberley to thank for organising our whole school French breakfast.
Monty the Dog and Mark came into school on Thursday to share stories and answer questions. All the children enjoyed stroking Monty and finding out lots of interesting facts about him.
I hope you have a great weekend, even though it is raining outside. I look forward to hearing about all your rainy weekend adventures on Monday.
Miss Lea, Mrs Davies and Mrs Fox
Posted by Martyn Ode on 29 September 2019