27 September 2019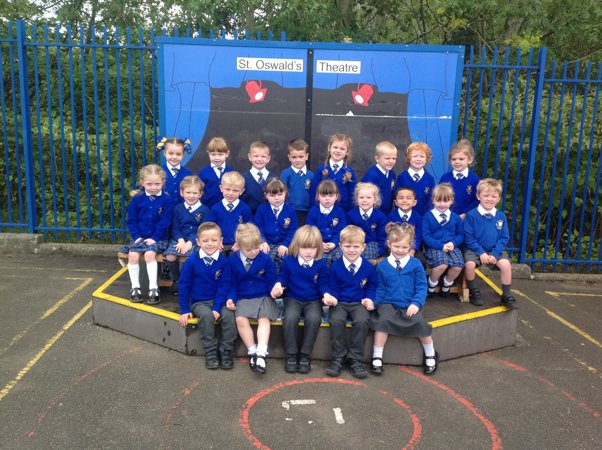 Friday 27th September
WEDNESDAY WORD – SHARING
Follow us on - Twitter - @saintoswalds
THIS WEEK – During our Come and See (R.E) activities we have continued to listen to and discuss Psalm 131 – I trust you God, just like a baby, safe and snug, being carried in a Mum's arms. So I can rest in your love, so gently held, so loving held, so good to be in your care. I will rest in your love for me, and have recapped Isaiah – God says: you are precious, I love you, I know you, I know your name. I call you by your name you are my child.
In phonics we have worked on hearing initial sounds within words and sorting pictures into Bertha's basket. Within literacy, we have been writing our names. During maths we have focussed on number 1, looking at how to write it and how to make 1.We have been adding 1 more to a number and making a number 1 less. We have also looked at shapes related to 1 – circle, oval, sphere, as they have one side/face. During the afternoon, we have continued to think about our senses and which body part we need for each. We have been describing objects using our sense of touch to find out how the different objects feel, using language such as hard, soft, squishy, bumpy, spikey, bendy and crunchy. The children have enjoyed joining in with our French Breakfast morning.
Thank you for all of your cake donations for our MacMillan Afternoon Tea.
CHALLENGE FOR THE WEEKEND – Thank you for all the children's work on the senses. This weekend we would like you to help your child to practise writing number 1. Look for circles, ovals and spheres in the environment. The children can draw one object to represent the number 1. Please send in any examples of the children's work or what they find related to number 1.
PARENTS' DREAM – Thank you to all the parents who have sent in their parent dream. Please continue to send these in if you haven't already done so.
MARK AND MONTY VISIT – On Thursday, we were very lucky to have a visit from a visiting author and his dog Monty. The children listened to some of the stories Mark had written about Monty and they asked him questions to find out more about Monty. Keep a look out on our blog for photos of the children's experience.
A HUGE WELL DONE – Bliss and Myles brought in their swimming certificates and Rose brought in her learning to be a mermaid certificate. Well done on all your achievements.
PARENT INTERVIEWS – Our Foundation Stage interviews are on Monday 7th October 2019 where we will discuss how your child has settled in. A letter came home on this week asking you to sign up for our new way of choosing your preferred time slot. Please ensure you do this so that a time can be allocated. If you choose the block of time between 1.30pm and 3.20pm you will be able to take your child home after the interview if you wish.
DATES FOR YOUR DIARY - Maths Inspire – Wednesday 2nd October Eaglets 9 -11am and
Owlets 1.30 – 3.30pm
Parent Interviews – 1:30 – 6:30 p.m. - Monday 7th October
Half tem – Friday 18th October
Tempest photographer in – Wednesday 30th October
I FOLLOW "THE OZZIES WAY" CERTIFICATES
Well done to Charlie Riley and Lauren Green this week.
Enjoy the weekend and remember to attend Mass on Sunday.
Mrs Gill Early Years' Leader and all the Foundation Staff
Parents/carers of children in Eaglets (Miss Davies) Maths Inspire session – 9am - 11am.
Parents/carers of children in Owlets (Mrs Gill) Maths Inspire session – 1.30pm–3.30pm
The session will run the same as the reading session, where you will be able to work on maths activities with your child.
Please come to the classroom door where you will be asked to wait whilst we get the children settled before asking you to come into the classroom. Thank you for your support.
Posted by Martyn Ode on 27 September 2019